Marketing Plan for Growth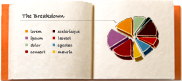 Want to turn your website into a lead generation machine in six months or less?
Our Marketing Plan for Growth provides a practical guide to understanding and leveraging Internet and social media marketing strategies. Finally, an easy-to-understand step-by-step reference for achieving increased sales revenues via Internet marketing within 6 months.
In this guide you'll learn:
how to assemble a content marketing team
ways to get clear on your brand
how to develop a killer content strategy and promote the content you create
how to analyze what you measure and use it to improve your strategies
and more
Your competition is ready. Are you?